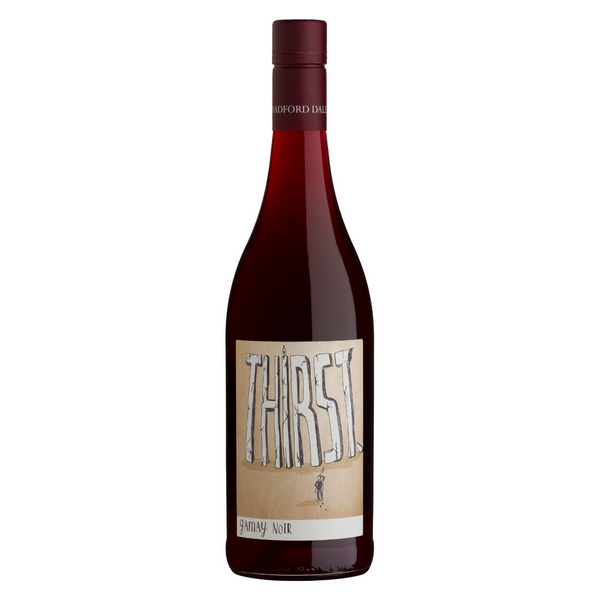 2023 | Stellenbosch
Thirst is a live rock concert rather than a manufactured, boyband studio album. Our aim is to express its environment, the varietal and the vintage, in the most natural way. Our simple logic is, the less you manipulate the wine, the better it is, and we therefore capture its integrity, energy and individuality.
Only around 8 hectares of Gamay are currently planted in South Africa and this vineyard is situated in Stellenbosch on a South East-facing slope.
Low, single wire trellising and the sprawling growth of the variety mean that grapes are carried within the canopy, which shelters the thin-skinned bunches from too much direct sunlight, thus conserving natural acidity and freshness. This vineyard is 22 years old so it's yields are small, as can be expected from a vineyard of this age. We picked early but with optimum ripeness. In the cellar, whole bunch carbonic maceration methods were used during the fermentation, then the grapes were basket pressed resulting in a wonderfully perfumed fruit expression. No oak used at all.
This rare Gamay is lean and light but by no means simple. The palate displays supple tannins that provide texture, expressive red fruits on the nose and palate, herbaceous tomato-leaf and a fantastic length. Utterly smashable and the perfect Summer red.
VEGAN FRIENDLY
Wine Reviews & Ratings
Download all Radford Dale Press Reviews & Ratings HERE
wine factsheets
Delivery Info
Delivery to your door (anywhere in SA) is free if you spend R2000 or more. Otherwise we charge a flat rate of R175 per order.
We'll endeavour to dispatch your order within 2 working days of receipt of payment. See full delivery T&Cs here