organic wine program
We believe organic, regenerative farming is the future. A return in fact to the values surrounding the respect of nature. We choose to give our Estate wines a chance to express their distinct individuality, by working naturally in the vineyards, employing traditional hands-on methods, and manipulating things as little as possible in the cellar.
We've adopted organic practices in our winemaking for many years but it was only in 2020 that we received our first official Organic accreditation from EcoCert, marking the start of an exciting new journey, into a certified organic era for our Estate Radford Dale wines.
spearheading organic gamay
Planting the first ever organic Gamay vineyard in South Africa, August 2022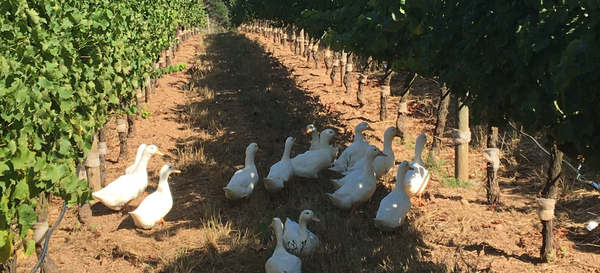 using nature
Our ducks make for the best natural snail managers.
Hands on quality control
In the vineyard, and in the cellar.
terroir - working with nature's bounty
In October 2021, we purchased a 20ha organically certified Estate in Elgin, now named Radford Dale Organic.
Here, 23 years after first launching, we have established a wonderful home for Radford Dale.  We are focusing on the production of organic Pinot Noir, Chardonnay, Cabernet-Franc and Semillon, and importantly, from 2026, South Africa's first ever organic Gamay.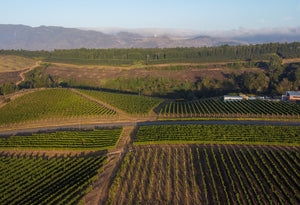 altitude
Radford Dale Organic Estate is situated in the heart of Elgin, on 20 hectares of prime viticultural land at altitude (300-320m above sea level). Elgin offers the coolest climate of any wine region in South Africa with an average annual temperature of 13 degrees celsius.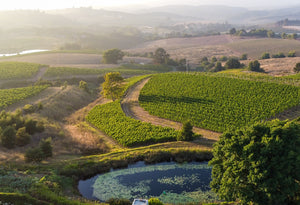 rainfall
The altitude, together with ample rainfall (on ave 950mm per year), multiple facing aspects, ancient, gravelly, free draining and mineral rich Bokkeveld shale soils, and proximity to the ocean create the perfect balance for successful viticulture.
The wines we make on our Estate are expressions of purity and finesse; the summit of Radford Dale.

revelation semillon
Elgin
This wine marks our maiden vintage from Radford Dale Organic. Semillon is one of the Cape's true heritage varieties, with origins as early as the 17 th century (so widely planted in the 1800s that it become known as "Groen druif", which translates to Green Grape). Currently, this varietal accounts for only 2% of the total vineyard plantings in South Africa. Our initial engagement with this varietal, in the 2022 vintage, was such a revelation that we bestowed that sensation upon the name of this wine. Even though this is a heritage grape of the Cape, it is a first for Radford Dale and the start of a new and exciting wine journey.
Cellar door: R 499
[available to purchase online from late September 2023]

touchstone chardonnay
Elgin
This wine marks our maiden vintage from our Estate at Radford Dale Organic, in cool-climate Elgin. Aptly named Touchstone it refers both to the exceptional geology in which our vines are planted as well as to the stylistic inspiration point of Burgundy, where Alex Dale grew-up. These unique Bokkeveld Shale soils, characterised by a clay top layer and rich in minerals, impart a remarkable elegance to the wine.
Cellar door: R 499
[available to purchase online from late September 2023]
freedom pinot noir
Elgin
In September 1994, Alex Dale arrived in South Africa from Burgundy, where he grew-up. In South Africa, Alex discovered the freedom to express his winemaking vision without the restrictive regulations of the EU and Burgundy, embracing the untamed beauty and geology of the Cape's vineyards. In the spirit of an exciting, newly-democratic South Africa, this burst of liberty sowed the seed for the creation of Radford Dale's passionately crafted Freedom Pinot Noir. This vintage marks our 16th consecutive vintage of Pinot Noir from Elgin. The 2022 vintage, however, marks the maiden release from our own Estate in Elgin.
Cellar door: R 499
[available to purchase online from late September 2023]
higher purpose cabernet franc
Elgin
This wine marks the maiden vintage from our Organically-certified Estate in Elgin. "Higher Purpose" is a fitting name for this wine, encompassing both the varietal's intrinsic qualities and the influence of its elevated vineyard location. It embodies a dedication to excellence and a commitment to crafting a wine that reaches new heights of flavour for this varietal in South Africa.
Cellar door: R 499
[available to purchase online from late September 2023]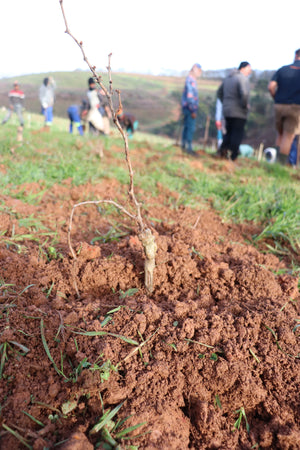 pioneering organic gamay
By the end of 2019 the Gamay grape, originating in the Beaujolais Region, was all but extinct in South Africa, with just under 8 hectares planted remaining, in total.  Yet we believe it has massive potential to produce refreshing wines of heightened quality, on the granite-rich slopes of the Cape Winelands and in a terroir that mirrors its granitic French 'motherland' of the Cru Beaujolais.
In fact, we believe so fervently in its potential that we have already committed 2 ha of our own prime organic land at Radford Dale Organic to Gamay - the first ever organic planting in South Africa - with more to come in the years ahead (this on top of the two vineyards we have also planted, over the past decade, in Stellenbosch).
And we're not just doing this for ourselves. We are reintroducing and reinvigorating a varietal that thrives in our climactic conditions, loves granite, and lends itself to producing world-class wine. We aim to offer other producers the plant material to also grow Gamay. Matching thus a varietal in total harmony with the natural conditions. A win-win for all concerned
--------------------
Pictured, meet Dom, SA's first organic Gamay vine, named after Alex's old friend Dominique Piron - 14th generation grower from Morgon and all-round Beaujolais legend.
read more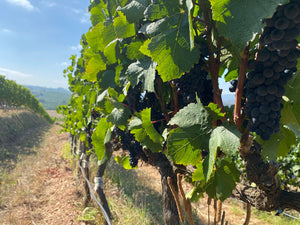 Organic Pinot Noir, Radford Dale Organic.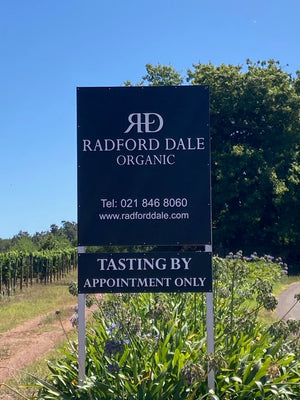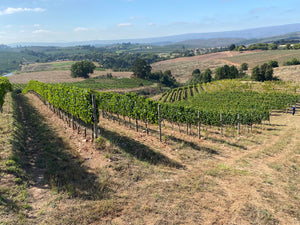 Undulating, multi-faceted vineyard sites at Radford Dale Organic.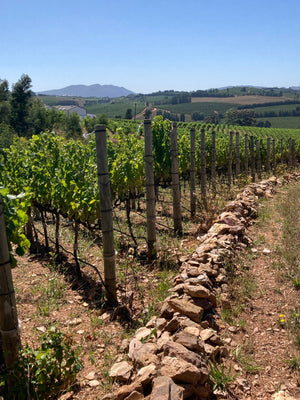 High density organic Chardonnay.
maiden harvest at radford dale organic - feb 2022
Official organic certification
The law in South Africa stipulates we cannot be certified organic for any wines made in the same cellar as non-organic wines, so we had created a separate cellar in Stellenbosch to achieve this first accreditation in 2020.
Going forward however, we now have our own fully organically certified land, winery and cellar at Radford Dale Organic in Elgin, for which our organic certification is renewed annually.
Click the certificate image to download our latest certification.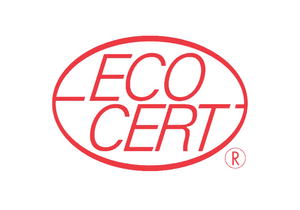 EcoCert
Ecocert is an organic certification and inspection body established in France in 1991. With activity in over 80 countries Ecocert has become one of the major organic certification organisations in the world.
If you see the ECOCERT logo on any of our wine product pages, you can be assured the wine has been fully ORGANICALLY-CERTIFIED.