Minimal Intervention winemaking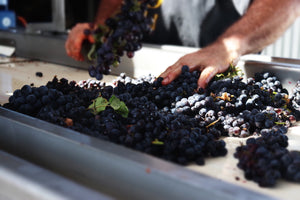 WE BELIEVE WINEMAKING IS ALL ABOUT INDIVIDUALITY.
We also believe strongly in the Cape's ability to produce great wines with inimitable character. Just like the people who live here.
We want our chosen varieties to express the extraordinary array of terroirs that nurtured them – with precious little intervention from us. This sense of "place" is often lost in modern winemaking, where too much emphasis is focused on commercialism, medals and other frilly stuff imposed by the winemaker or, worse still, by the marketing department.
We want to give our wines a chance to express their own individuality. How? By working as naturally as possible in the vineyards, employing traditional methods, and manipulating things as little as possible in the cellar.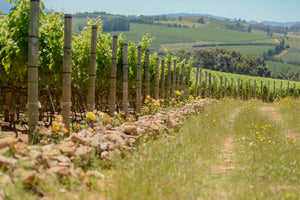 SO HOW DO WE KEEP THINGS NATURAL IN THE VINEYARD?
We grow healthy vines. 
By focusing on vine health and the development of the plant's own immunity, we've been able to cut the number of disease-fighting chemicals, pesticides and additives to an absolute stand-out minimum.
We're bug-friendly. A vineyard should always form part of the ecosystem (as opposed to the vast monocultures that have trademarked commercial farming for decades). That's why we promote beneficial microorganisms and, in so doing, decrease the effect of nasty ones.
We stop the buck. Nicely. By combining tried and tested, traditional methods with new innovations, we've reduced bird and animal crop damage to almost nothing. Where the local wildlife (mostly buck) have been guilty of "sampling" the grapes, we've placed dog fur (from grooming salons) on poles and wires in the vineyards. The smell of the fur scares the buck away and prevents any damage to the vines and grapes.
We're for the birds. Rodents have a habit of digging their burrows under the roots of vines, and can cause a lot of damage. Instead of using poison, we decided to install perching posts for birds of prey (especially jackal buzzards, fish eagles and owls). This gives them an ideal vantage point to watch over the vineyards and keep them rodent-free. It works a treat.
We're down to earth. We've also implemented a composting programme that's gradually replaced the need for fertiliser – although it'll take time to realise its full potential. Meanwhile, we've been studying selected strains of fungus that form a mutualistic association with the roots of our vines, enlarging the usable surface area of these root systems. This will improve the uptake of water, as well as nutrients like phosphorus and nitrogen. All naturally.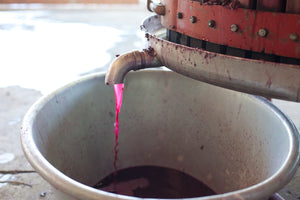 HOW DO WE KEEP THINGS SIMPLE IN THE CELLAR?
We handle our grapes with care. 
We've focused our attention on developing ways to vinify the grapes we grow (ie. turn them into wine) without detracting from the characteristics and qualities they acquired in the vineyard. For red wines, for example, we mainly use small, open-top oak fermenters and traditional extraction methods, as well as spontaneous or natural fermentations, to capture the essence of the grape with minimal manipulation.
We're soft on skins. We've developed a system of conveyers that transport the grape skins after fermentation to the pressing stage, ensuring they stay completely intact. The resulting wine shows greater depth and elegance, and eliminates the need for fining agents to deal with rough tannins. This is quite a contrast to the abrasive methods of transporting and dumping grape skins in the press – a common practice in cellars where time and volume are key concerns.
We pick at the right time. We pick our grapes at just the right time, conserving the freshness and natural acidity so we don't need to add acid or any other additives. This is one of the most important principles in natural winemaking, and getting it right takes experience. It's not about calculations or chemical analysis; it's about tasting the grapes, listening to your instincts and making the right judgement call.
We screw up. (But it's not what you think.) To make sure we use as little sulphur as possible during maturation, we've developed a method of reductive ageing that reduces the risk of oxidation during maturation. Because we bottle exclusively under screw-cap – as opposed to flawed cork or synthetic closures – we can also reduce the sulphites required to protect the wine from oxidation during bottle maturation. We're a low-sulphur winery across all of our wines, and we've even started bottling certain wines with zero sulphur. Many people think this is pretty much impossible. It isn't.
---------------
Together, these (and other) factors make our wines noticeable wherever they go, if only because they're uncommonly natural. Each bottle reflects the environment we've strived to reflect from the outset, and retains all the qualities of elegance, purity and character that come from the right grapes, grown in the right way.
Jacques 
Jacques de Klerk
Head of Viticulture & Winemaking