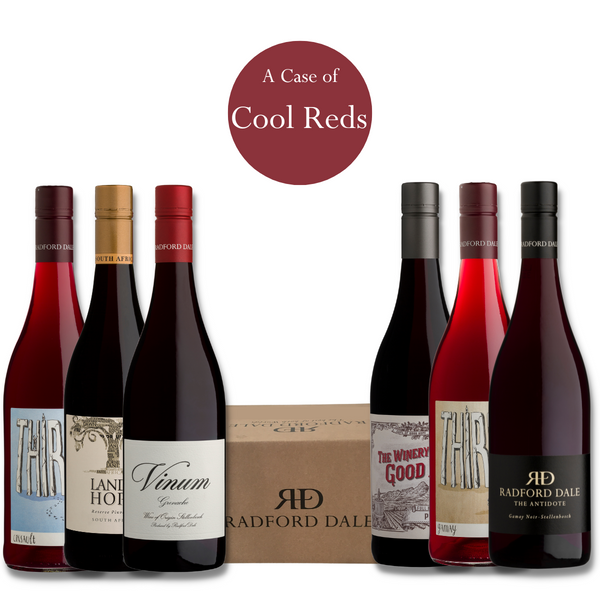 We all love our reds with the braai, but in the warmer climes of Southern Africa who wants to be drinking huge, heavily oaked, 14%+ alc red wines in the middle of day - or at any time for that matter?! Not us...enjoy this delightful case of lighter style reds and don't forget to serve them all slightly chilled.

Case includes x1 bottle each of:
Radford Dale The Antidote Gamay 2021 (Stellenbosch) 
Radford Dale Vinum Grenache 2021 (Stellenbosch) 
Radford Dale Thirst Gamay 2022 (Stellenbosch)
Radford Dale Thirst Cinsault 2022 (Stellenbosch)
Land of Hope Reserve Pinot Noir 2020 (Hemel en Aarde) 
Winery of Good Hope Full Berry Pinotage 2021 (Coastal) 
See individual product pages for further info on each wine / We reserve the right to occasionally swap out a wine or vintage if stock has become unavailable 
Wine Factsheets
View and download all Factsheets here
Reviews & Ratings
Download all Wine Reviews and Ratings HERE
Delivery Info
Delivery to your door (anywhere in SA) is free if you spend R2000 or more. Otherwise we charge a flat rate of R175 per order.
We'll endeavour to dispatch your order within 2 working days of receipt of payment. See full delivery T&Cs here