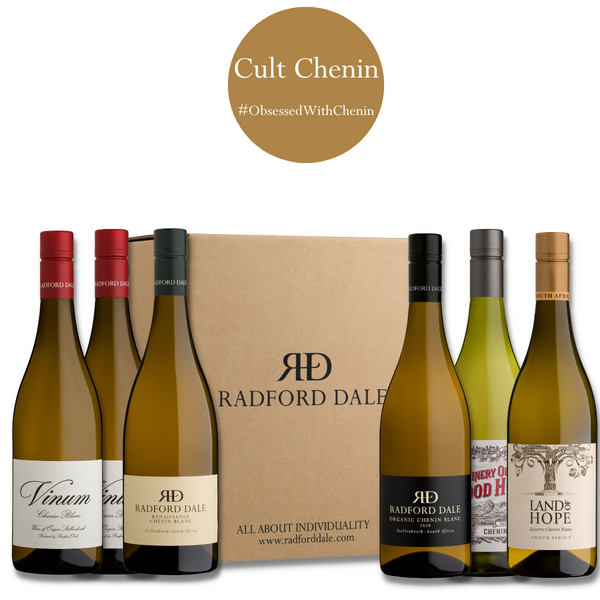 Chenin Blanc forms the backbone of our winery and everything we do. It is, we believe, the true individual personality of the Cape's winelands, and its greatest asset. It's only sensible then, that we should curate a mixed case of all of our Radford Dale Chenins for you to compare, contrast and savour! 
"Given the amazing diversity of terroirs in the Cape winelands, the versatility of the Chenin Blanc grape presents a fascinating realm to explore. Chenin Blanc provides an ideal medium through which to express the qualities of the land when allowed its individuality and when treated with respect. In the South African context, many of the oldest vineyards are planted to Chenin Blanc, which have naturally found their own balance and produce wines with increased character, depth and intrigue." Jacques, Head of viticulture and winemaking.
Read full article on why we're #ObsessedWithChenin HERE  
Case of Cult Chenin includes the following bottles:
x2 Renaissance Chenin Blanc 2022 (Stellenbosch)
x2 Vinum Chenin Blanc 2022  (Stellenbosch)
x1 Land of Hope Reserve Chenin Blanc 2022  (Stellenbosch)
x1 Winery of Good Hope Bushvine Chenin Blanc 2022  (Stellenbosch)
 ----------------
See individual product pages for more wine detail.

We reserve the right to swap out any vintages that may have sold out at the time of sale.
Wine Factsheets
View and download all Factsheets here
Reviews & Ratings
Download all Wine Reviews and Ratings HERE
Delivery Info
Delivery to your door (anywhere in SA) is free if you spend R2000 or more. Otherwise we charge a flat rate of R175 per order.
We'll endeavour to dispatch your order within 2 working days of receipt of payment. See full delivery T&Cs here